tour de whanganui
Get Those Wheels Spinning!
WOWSERS!!!
You guys seriously smashed out those Stages during this years Tour de Whanganui.
Thanks & Congratulations to everyone that took up the challenge and HUGE THANKS to our local legends for the sweet prizes.
And if you're still keen to keep riding we've tweaked the maps so you can use them anytime…you…like!
ENJOY!!
1 february – 28 february 2021
WIN AWESOME PRIZES
Every completed record sheet goes into the draw to win a bike up to the value of $699!!!
Plus loads of other vouchers and goodies donated by our awesome local supporters.
Download your 2021 record sheet ➡ or collect one any of our legendary local supporters below.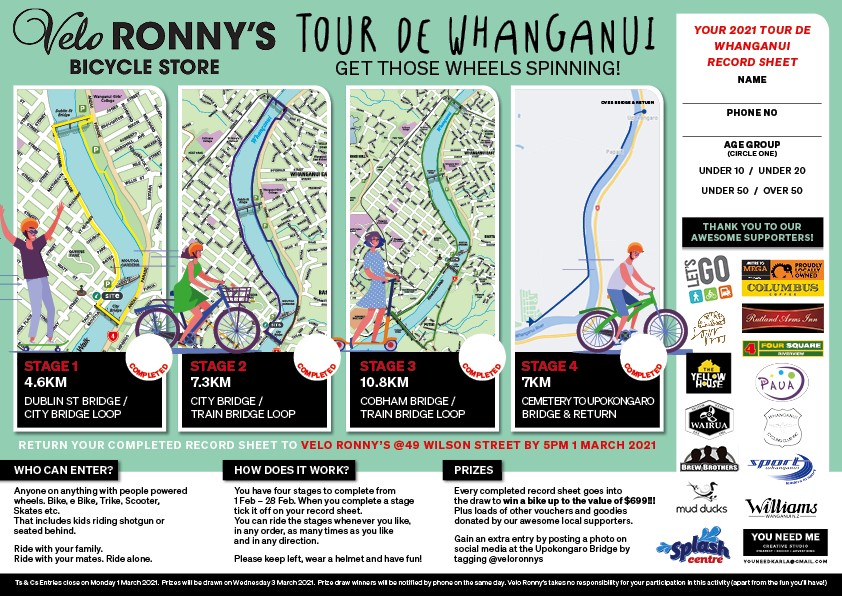 WHO CAN ENTER?
Anyone on anything with people powered wheels. Bike, eBike, Trike, Scooter, Skates etc.  That includes kids riding shotgun or seated behind.
Ride with your family. Ride with your mates.  Ride alone.
P.S It's free to take part!
HOW DOES IT WORK?
You have four stages to complete from 1 Feb – 28 Feb.
When you complete a stage tick it off on your record sheet.
Return your completed record sheet to Velo Ronny's @49 Wilson Street by 5pm 1 March.
HINTS AND TIPS
You can ride the stages whenever you like, in any order, as many times as you like, and in any direction.
Wear a helmet.  Keep Left. Enjoy the Views.
Gain an extra entry by posting a photo on social media at the Upokongaro Bridge tagging @veloronnys
terms & Conditions
Entries close on Monday 1 March 2021.  Prizes will be drawn on Wednesday 3 March 2021.  Prize draw winners will be notified by phone on the same day.
Velo Ronny's takes no responsibility for your participation in this activity (apart from the fun you'll have!)